Selfcare is the practice of protecting one's own well-being and happiness – especially during periods of stress. Selfcare can take on many forms: from eating your favorite nutrient-dense foods, to mindfulness around products you put on your skin, to treating yourself to a decadent massage. For most of us however, massage is a luxury. Enter Abhyanga. Abhyanga is an ancient Ayurvedic self-massage technique that involves anointing the body in warm oil. It's super soothing and leaves skin feeling soft and supple. Best of all, this selfcare ritual is accessible to most and can be done in the comfort of your own home. Traditional Abhyanga is practiced with sesame oil, but any natural body oil will do the trick. Our cult favorites are Undaria Algae Body Oil (rich in sesame oil) and Anti-Aging Body Balm (loaded with coconut oil).
Editor's Pick
new jumbo size
---
Benefits of Abhyanga Massage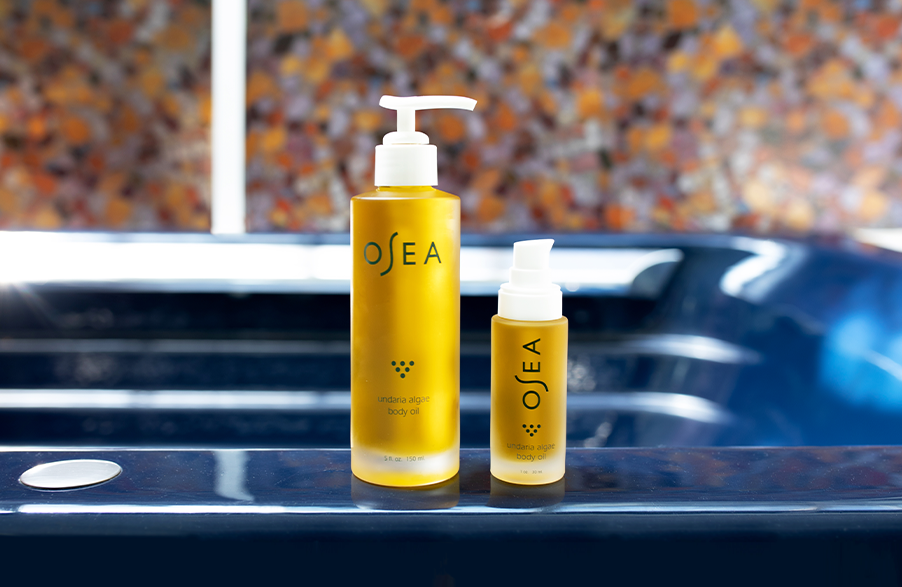 • Restores the balance of the doshas
• Detoxes body of impurities
• Reduces feelings of stress and anxiety
• Minimizes the look of cellulite and stretch marks
• Softens skin
• Encourages more restful sleep
• Inspires healthy digestion
• Leaves hair radiant and hydrates scalp
---
Get Into the Ritual with These 5 Simple Steps
Step 1
Gently heat oil in warm water in a heat proof bowl. Use at room temperature if you like it cool.
Step 2
Sit on the bathroom floor on a towel or a stool to avoid slipping.
Step 3
Starting at your feet, gently massage your body in long, upward circular motions towards your heart. Use small circular strokes around the joints. Delicately massage under the arms and on the neck. Hot tip: Try sending loving affirmations to yourself while practicing this ritual
Step 4
Massage the belly in circular strokes to promote digestion. Don't forget your scalp and the outer edges of your ears!
Step 5
Wait 10 minutes after the massage is complete. Towel off excess oil from your feet to avoid slipping and rinse in a warm shower.
Follow along in our video tutorial at the top of this page, guided by Amber Lee, our favorite holistic massage therapist and Reiki master practitioner!